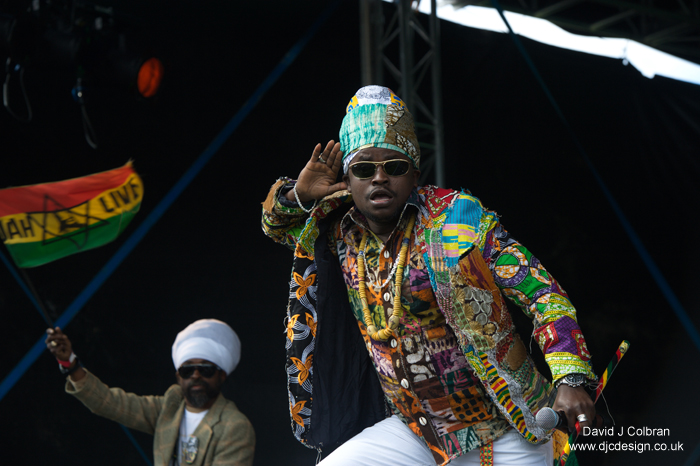 Booking details coming soon



BLACK PROPHET is an African Reggae singer/songwriter from Accra Ghana.
This young man is not the typical reggae artist…he writes as he sees…as he feels of what is happening in the world, of how it affects him and how the world affects the people around him.  Growing up on the streets of Accra in Ghana, Prophet endured a poverty-stricken childhood.  Music, he concluded, was the only way to escape the tough life on the streets.
Black Prophet music is different …a mixture of African Traditional percussion, with the elements of Jamaican reggae and a hint of rock.  Some of Black Prophet songs are sung in one of the African dialects Twee and Ga…or a mix with English.
Black Prophet has played in over 30 countries appearing in festivals, nightclubs in countries as diverse as Sweden, Germany, Jamaica and the UK. He released his debut solo album "No Pain No Gain" in February 1998, a combination of reggae and African Hip Hop tracks.  In 2003, the singer and songwriter first toured in Europe where he performed at various festivals in the Netherlands and Belgium.   In 2006 he released the Album 'Legal Stranger' which contains hits like 'Mama Africa' and 'Tell Me Why'. Prophet's song 'Doubting Me' was named 'Best reggae Song of the Year' at the Ghana National Music Awards 2007. In 2008, his third album "Prophecy" was released which was a compilation of powerful songs such as "No Pain No Gain", "Give Me Back All the Natural Resources" and the hit tune "Hot and Cold" featuring the British–Ghanaian Rapper, Sway.
During his 2012 European tour with the Jamaican Artist, Turbulence, Black Prophet showcased his newest album "Tribulations" which offers a unique fusion of African and Jamaican Reggae elements with traditional African music and hip–hop beats. "Tribulations" features the great Jamaican Reggae Artist, Capelton, the Nigerian Artist, 2face and the Ghanaian Artists, Tinny and Asem. "Tribulations" also promotes the single "Good Feeling" produced and featured by the world-renowned, Dean Fraser.
In May 2014, Black Prophet signed a deal with VP Records/VPAL Music to distribute his albums worldwide… Tribulations, Legal Stranger and Prophecy. He returned to Jamaica for several months in 2015 to record a new album 'Stories of Life' with Dean Fraser, collaborating tracks with Duane Stephenson and Tarrus Riley. This will be released late in 2016 supported by a UK tour to coincide with Black History Month.
Black Prophet has set up a fan base reaching far outside his motherland, Ghana. His songs get airplay all over the world. He has worked, collaborated and shared the stage with various international producers and artists such as Dean Fraser, Mikal Asher (Morgan Heritage), Alpha Blondy, the late Lucky Dube, Beenieman, Busy Signal, Sizzla, Tarrus Riley, Capleton, Steel Pulse, Israel Vibration, Fantah Moja, Jah Cure, Anthony B, Culture B and Rita Marley.
His band "Thunderstrike" is drawn from all corners of the world…Indonesia, Germany Ghana, Holland giving Black Prophet music a world music vibe.
Black Prophet sees music as a spiritual tool… to educate…. elevate all who listen…..and experience his dynamic performances.  Sounding sweet with meaning for all music lovers….This artist needs to be heard….
'From Ghettos to Castles'…The skies the limit for…'Black Prophet is putting Ghana…Africa…… On the Map!

www.black-prophet.de